Llyn Llech Owain
Llyn Llech Owain covers an area of 73 Hectares(180 acres) and its central feature is the lake itself. Many paths are well surfaced and accessible to wheelchair users, and a specially constructed path allows safe access over the peat bog and around the lake, a forest track provides a longer walk.
Video of the walks in Llyn Llech Owain.
The Country Park is managed for your enjoyment by Carmarthenshire County Council with nature trails, an adventure area including a cool wooden adventure playground, separate toddler playground with smaller features. A forest track provides a longer hike or bike ride around the country park.

At the heart of the Country Park is the lake, which is surrounded by a peat bog. This rare habitat is designated a Site of Special Scientific Interest (SSSI), and has a real wealth of interesting wildlife in its different habitats.
The central lake and peat bog support rare plants including bogbean, round leaved sundew and the royal fern. Birdlife includes snipe, reed bunting, moorhen, mallard, pochard, little grebe, swallows and house martins.
There are boardwalks across the peat bog to enable safe viewing of the habitat. The network of footpaths provides for enjoyable walking. Many paths are well surfaced and accessible to wheelchair users.

The woodland includes coniferous and broad leafed deciduous varieties, which provide great environments for a range of tits, goldcrest, treecreeper, jay and green woodpecker. Out on the heathland you might see kestrels, buzzards, common lizards and grass snakes.
Insect life includes peacock, painted lady and orange tip butterflies, many dragonflies and damselflies.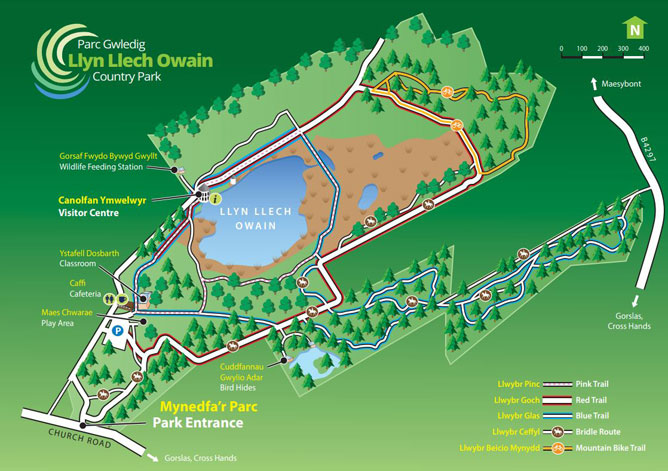 Legend has it that historic serviceman Owain Lawgoch (known as Owain The Red Hand in The Hundred Years' War) was entrusted to look after Mynydd Mawr, a well on the mountain.
Every day, after withdrawing enough water for he and his horse, Owain was always very careful to replace the stone slab which held back the water.
However on one occasion he somehow completely forgot to do that and an absolute torrent of water poured down the side of the mountain!
The resultant lake was hence named Llyn Lech Owain, meaning 'the lake of Owain's slab'!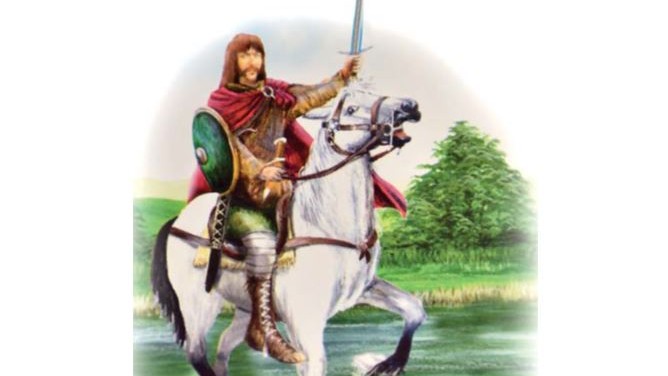 The Visitor Centre stands beside the lake, enjoying splendid views of Llyn Llech Owain and the surrounding area. It houses an exhibition and information on the management of the Country Park.
Our team of Countryside Rangers is based here and will be happy to answer your questions or to hear about wildlife you may have seen.
Llyn Llech Owain has a cafeteria, picnic sites, and toilet facilities, all with provision for the disabled. We hope you enjoy a visit here soon!