The sleepy, timeless town of Laugharne was not always the tranquil place it is today. This placid place, immortalised by its most celebrated inhabitant, the writer Dylan Thomas, has a far more turbulent past
Get your wandering walking boots on because there is so much to see. Just a short and emotional walk above the village is the graveyard of St Martin's Church where Dylan Thomas and his wife Caitlin are buried.
Laugharne overlooked by the world famous boathouse where so many of the great man's creations were inspired and penned. Dylan lived in the Boathouse with his family for four years before his untimely death in 1953 in what was his golden period of literary creations. And this wooden structure is renowned around the world for its literary and romantic association with the great poet.
An introduction to Laugharne
Not to be missed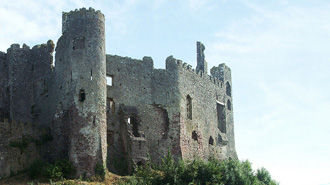 Laugharne Castle
Laugharne Castle is testament to the town's troubled history, standing foursquare on the waterfront overlooking the Taf estuary. Founded in the 12th Century as an earth and timber fortification the castle was later adapted to provide stylish living accommodation.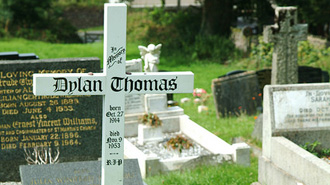 St Martin's Church
Home to one of Wales' greatest writers, Dylan Thomas (1914-53). Laugharne was to become Dylan's final resting place. After his death in New York the poet's body was returned to Britain and buried in the grounds of St Martin's Church in Laugharne. Caitlin was also buried in the same plot following her death in 1994.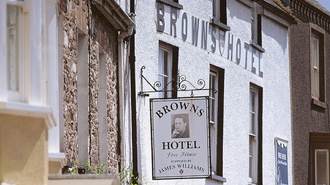 Brown's Hotel
Dylan Thomas' favourite drinking den, Browns Hotel in Laugharne Carmarthenshire, is a 1950s styled boutique hotel. Relax with a pint of Browns Ale in his favourite local and soak up the atmosphere.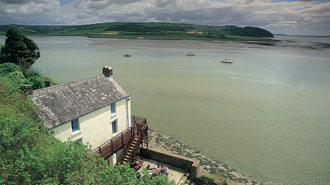 Dylan Thomas Boathouse
The Boathouse where the poet lived for the last four years of his life is now a heritage centre containing audio visual presentations, original furnishings and memorabilia, a themed bookshop, tea room, viewing platform and terrace. Follow Dylan Thomas birthday walk to explore the rich history of Laugharne.
View things to do in Laugharne
View