Discover Carmarthenshire. Safely. 
As a responsible tourism destination we are committed to support the safety of the people of Wales and the visitors we welcome each year. 
Welsh Government has announced new targeted restrictions in the hospitality and leisure sectors, together with a £340m support package. 
Restrictions are in place for hospitality settings from 18:00 on Friday 4th December and will be kept under review. The temporary Christmas Rules and 'Christmas bubbles' from 23-27 December will only apply to meeting in each other's households, and the rule of four will remain in place for hospitality settings over this period.
We ask that you continue to stay safe and follow guidelines.
But remember travel from outside of Wales is still not permitted. In the meantime, we're here to provide inspiration for the future while you plan to Discover Carmarthenshire. Later.
Visit our Newsroom for the latest guidance and updates to services. You can also follow us on Facebook and Twitter.

Protect yourself and others.
#KeepCarmarthenshiresafe
Good to Go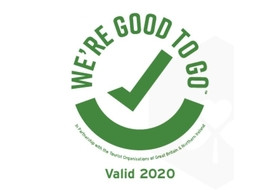 For everyone's protection, our tourism businesses are applying higher standards of cleaning and changing their procedures to comply with Government guidance. Many are now proud holders of the new UK wide Good to Go tourism accreditation so look out for those displaying their accreditation!
NHS App
It is now compulsory for hospitality businesses and other high-risk settings to collect contact details to support the NHS Test, Trace and Protect service. Details of staff, customers and visitors need to be recorded.
A new NHS COVID-19 app was launched on 24 September for Wales and England, logging the amount of time spent near other app users, and the distance between you, so it can alert you if someone you have been close to later tests positive for COVID-19.
Together we can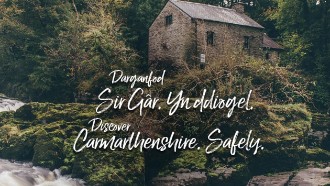 • Respect our guidelines, safety measures, local communities and others around you
• Protect –yourself, other people, and critical services; stay home if you're unwell
• Enjoy our people, places and hospitality safely - thank you for supporting local businesses get back on their feet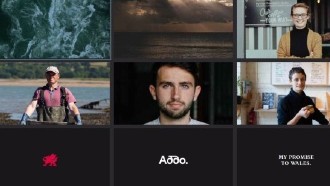 Sign and make your promise to Wales as you prepare to start exploring again, to care for each other, our land and for our communities.
If a beauty spot or beach is too busy, why not simply go and discover a new favourite place and explore our hidden gems from Carmarthen Bay in the South to the Cambrian mountains in the North. If after browsing through all of the things to do and see in our website you still have a question, please contact one of our bilingual staff through our tourist information via email tourism@carmarthenshire.gov.uk . We will respond as soon as possible
Diolch / Thank you
Useful links for updates;
Carmarthenshire County Council
Public Health Wales guidelines
Carmarthenshire County Council Tourism pages