Find your flow on a biking break in northern Carmarthenshire. Explore a handy cluster of three bases, between them offering a diverse roster of routes – from downhill fast runs, cross-country trails and wide, loamy forest roads to the gnarliest black-graded singletrack.
Across the region you'll find a range of cyclist-friendly accommodation, from hotels and B&Bs in Llandovery and Llandeilo to traditional inns and self-catering cottages across the countryside – as well as lip-smacking local food, post-ride pubs and the warmest of Welsh welcomes.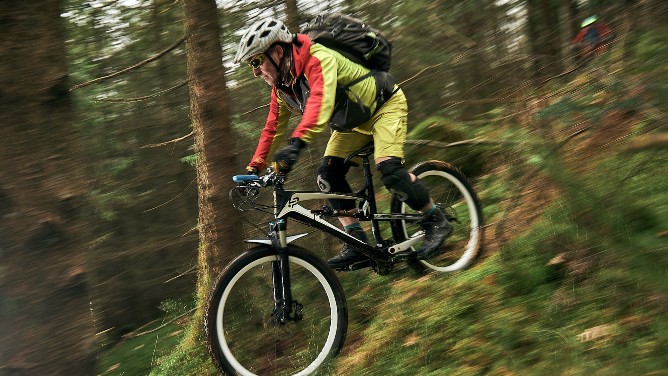 Carmarthenshire's scene is gloriously low-fi. You won't find uplifts or busy on-site cafés and bike shops – instead, you'll likely have the trails to yourself. Enjoy these fast, flowing descents with time and space to drink in the county's varied terrain and natural beauty.
DAY 1: GO WITH THE FLOW
A.M: Ease into the weekend with a morning on the well-maintained trails at Crychan Forest. This two-part treat near Llandovery, on the northwest fringes of the Brecon Beacons, encompasses a spaghetti network of mostly broad forest roads and hard tracks, though it's also hosted challenging enduro events. From either of the two northern car parks, stitch the Golygfa Epynt trail onto the back of the Brynffo–Esgair Fwyog route for a mellow 20.6km circuit. Still feeling fierce? Venture south into the Halfway section of the forest via the Allt Troedrhiw-fer trail link to add another 13.8km – a low-key but satisfying warm-up.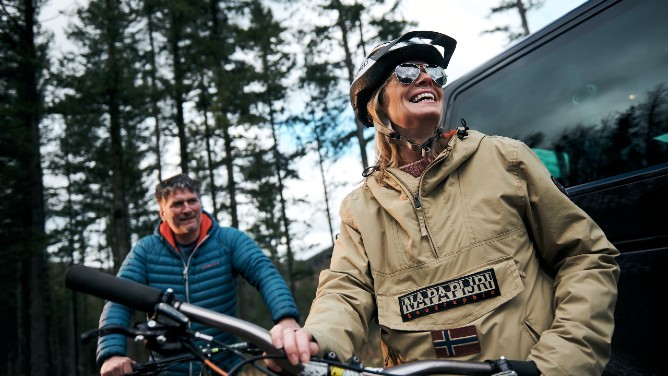 P.M: Bikes on the rack, head west to the highly rated Red trail at Cwm Rhaeadr. Snaking through remote woodland, this compact route packs quite a punch into its 6.7km. The initial 2.7km climb along a fire road from the car park rewards with a short but epic singletrack with plenty of berms, rollers and rocky drops. You'll want to tackle it twice, both for the buzz and for the spectacular views across the cwm (valley) and rhaeadr (waterfall) that give the forest its name.
Toast your first day at a traditional nearby pub: perhaps the Neuadd Arms in Cilycym or the Royal Oak in Rhandirmwyn, both serving hearty food that's always proudly home-made with locally sourced ingredients.
DAY 2: SHRED AT BRECHFA
AM: Today, make for the county's premier biking base, tucked away on the forested slopes of the Gorlech Valley north of Llandeilo: Brechfa, packing in four trails spanning grades from Green to Black – routes for all riders.
Begin at Abergorlech, start point of the Red-graded Gorlech trail: a hard, fast all-weather route designed by Rowan Sorrell. The payoff for three hefty climbs is a succession of well-sculpted berms, big switchbacks and plenty of kickers. Packing in plenty of stump jumps, step-ups and tabletops over its scenic 19km mix of forest trails and singletrack, it's the place to boost your confidence and skills before ramping up the adrenaline a couple of notches.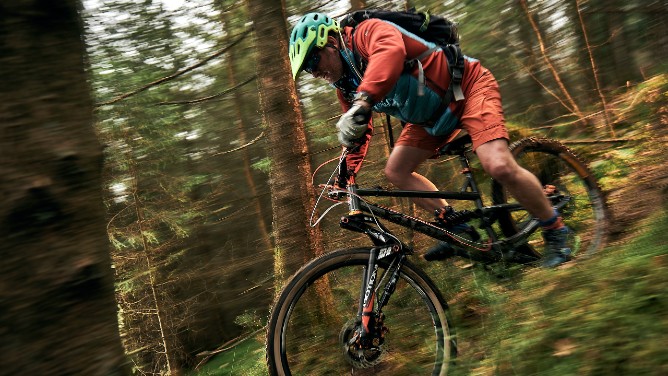 PM: Fuel up at the Black Lion near the trailhead in Abergorlech, then scoot 5km down the road to the Byrgwm car park near Brechfa village. Work off lunch cleaning the long, smooth, sweeping Derwen Blue route before braving the beast: Raven. Designed by Rowan Sorrell and Brian Rumble, this 18.5km route gets even the most experienced riders pinned on its narrow singletracks and brash descents. It's a fast, undulating ride with jumps and berm after rocky berm lurking in the mossy shadows of the dense forest.
At day's end, pair pumping endorphins with a pint – and maybe a signature Raven burger – at the Forest Arms in Brechfa to round off two days of trails and thrills.