Carmarthenshire's ancient agricultural heritage means the county is an ideal base for those who want to taste authentic Welsh produce. There are local farms delivering the best pork sausages to your doorstep, and several butchers in Carmarthen's town centre selling centuries-old ham recipes and beef uniquely aging in a salt chamber.
There's even a growing trend for milk vending machines that brings the Towy Valley produce straight to your kitchen. And why not visit a distillery to see where Welsh gin and rum are made?
Best for: Picnic supplies (especially honey and cheese), ham and gin.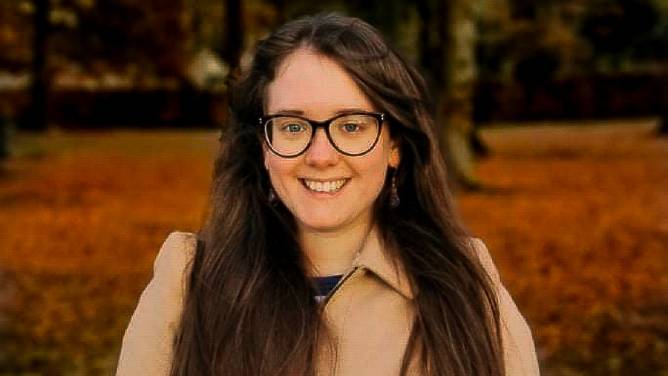 Hello, I'm Jade, a travel writer and photographer based in Carmarthenshire, a county I love for its miles of uninterrupted countryside and rich agricultural produce. I share my travels on my blog - Jade Braham's Odyssey.
Coffee Break
Start your morning at Y Sied Goffi in Carmarthen, sampling either the Welsh Breakfast tea or the Beetroot Latte, packed with antioxidants and vitamins. Their smoothies or Daioni Organic flavoured milk are great alternatives for children. All go down nicely with the pancakes served with Y Sied honey and seasonal fruits.
Or head to Parc y Bocs farmshop and café in Kidwelly for a family-friendly environment, serving homemade meals crafted mostly from what's in their garden. Their meals pair well with The Whitford Coffee Company's coffee.
For a homecooked breakfast, I'd order your favourite morning ingredients from Myrddin Heritage (delivers to your door on Thursdays). If you want a truly Welsh breakfast, opt for the Teifi Dragon Coffee and the classic pork sausages, handmade from slow-growing Saddleback pigs from Myrddin Heritage farm.
Foodie Fun
If you love award-winning gin, head to Jin Talog where the co-founders offer free distillery tours (by appointment only). On the distillery tour you'll learn about their backstory, the distilling process, their ethos – to make "gin that outlives the tonic" – and the three ingredients they use. What's more, you'll try their signature bottle, which is so smooth and crisp you won't need the tonic!
The tour of Coles Brewery - the first distillery to make Welsh rum - is a must-try for spirit lovers as you'll discover the special machinery built by the Coles family to distil more than one spirit (rum, whiskey, gin, and vodka). You'll get to taste their products: the Lemon Sherbet Gin is divine! This can be purchased in the adjoining White Hart Inn, a pub serving traditional Welsh meals like Cawl and Laverbread.
Meanwhile, those who like to cook will adore Y Sied, which offers cooking classes in a stylishly converted cowshed.
Market Forces
The Carmarthen Market is over 800 years old with stalls selling cheeses, fruit and vegetables. The Albert Rees Butchers stall in the market offers ham made from centuries old recipe. The pork pies are great for picnics.
The Kidwelly Market is held on the first Saturday of the month between 9am and 2pm in the town centre. It attracts 45 - 50 stalls on a monthly basis with the emphasis on supporting quality artisan makers. A street market set up between April and September and for the remainder of the year it is located in the Princess Gwenllian Centre.
Lunch Spot
The Warren is my favourite spot for vegans and vegetarians in Carmarthen. Its menu is centred on local and seasonal ingredients, and there is always a burger to try. The vegan burgers have the finest vegetable patties, while the normal burgers highlight local beef or lamb. My current favourite is the Pork Belly Sourdough Sandwich.
Treat Eat
Back in Carmarthen, The Secret Garden Café is as special as the name suggests with a wonderful outdoor seating area and bohemian-styled shack where you order treats like the salted caramel brownie and raspberry croissant.
Similarly, Tea Traders in Guildhall Square is a treat for tea lovers. They stock over 100 loose leaf teas, including the woodland teas from Carmarthenshire, featuring my favourite, the Birch Leaf Tea.
Must-do delis
Blasus Delicatessen is the shop to purchase ingredients for an al fresco feast. The shop has lots of delicious produce, including duck and bacon from the nearby Black Mountains and Hafod Organic Cheese. Don't forget to try the Seidr, Mêl Cilgwenyn honey, cockles, and homemade bread.
The Waverley Stores is by far the best shop to pick up vegan and vegetarian supplies, from organic banana and walnut cake to cheddar-style cheese with caramelised onion. Fresh fruits and vegetables can be bought here, but the vegan almond orange chocolate is what I'd opt for.
Take Homes
Head to the 24-hour milk vending machine in Llanarthne, and buy butter, re-usable and re-fillable milk bottles, and fresh milk produced from local pedigree Holstein cows. I'd recommend getting a second milk bottle for one of their free milkshakes - banana, chocolate, or strawberry.
Before heading home, pop to Chris Thomas & Sons - the best store to buy fruits and vegetables at an affordable price. The doughnut peaches, a punnet of strawberries and apricots all taste as if they've come from the Mediterranean.
Thanks to their salt chamber, Rogers & Sons is known for the dry-ageing of their beef. I'd recommend purchasing a steak or the steak and kidney pies.
Dinner Dates
Moryd Restaurant near Llansteffan is the ultimate high-end dining experience. The restaurant's menus focus on local cuisine with the seafood coming from the Welsh coast and the beef and lamb from down the road at St Clears. Trust me, you've got to try the beef burger with hand cut chips.
Also, near Carmarthen is Y Polyn which usually has delicious Welsh sirloin steak or crispy belly pork.
Larder Sleepovers
I'd recommend the Embrace the Space site for an off-grid glamping experience. Their yurts have toilets and kitchen facilities.
Or for more of a restaurant with rooms experience the luxurious Mansion House Llansteffan has rooms with sea views and a two AA Rosettes restaurant.
For an affordable seaside base Calon y Fferri is a small community run hotel at Ferryside (also home to Pryd o Fwyd restaurant) where simple rooms are all ensuite and decorated with the work of local artists.