Antiques & Brocante Trail
If you enjoy collecting antiques, come to Carmarthenshire on a journey of discovery. Follow our Antique and Brocante trail, it will take you to places you never knew existed and help you find the piece you always wanted. On these journeys you'll collect memories as you go deeper into a county full of treasures waiting to be discovered.
The trail takes you along the back roads and the side streets to find the kind of stores you don't see on the high street. Shops that are not only full of antique and vintage items, but also full of items which help tell the story of this part of Wales. Independent stores, owned by people who know the area well and who are only too pleased to share those stories with you.
You'll always remember the place where you unearthed your treasure and you can take a little piece of Carmarthenshire home with you.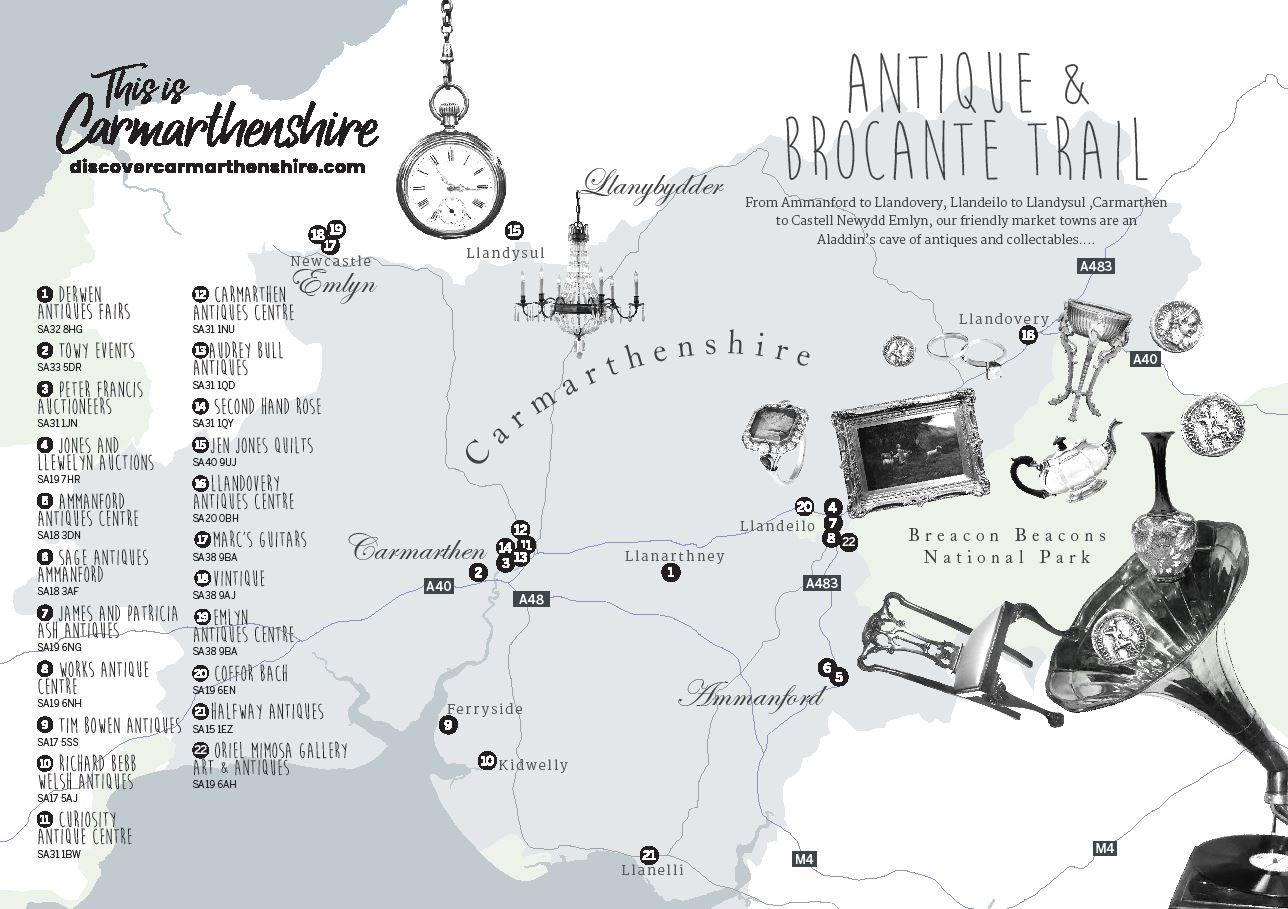 Empty the boot, grab a bag, and go off in search of that treasure that's just longing to find a new home.
Carmarthenshire provides a scenic backdrop for a wonderful array of exciting centres, shops, fairs and auctioneers, showcasing all that's best in antiques and brocante. From Ammanford to Alltyrodyn, Llandeilo to Llandysul, Carmarthen to Castell Newydd Emlyn, our friendly market towns are an Aladdin's cave of antiques and collectables.
North, south, east, west, Carmarthenshire's a honey-pot of art and items from times past. Whatever your budget, you'll be smitten with the vast array of items on offer. From quality Welsh art, furniture, clocks and pottery to quirky salvage, shabby-chic, memorabilia, it's all here waiting for you.
Seek out your perfect find. Take it home with you. Make new memories out of something old. You'll always remember where you found it.