Welcome Back...
The good news is that you're allowed to come and visit us in Carmarthenshire from 6th July as the 5mile travel restrictions are lifted by Welsh Government. You be able to visit some of our outdoor attractions such as The National Botanic Garden of Wales and Pembrey Country Park, plus you will be able to have a long-awaited holiday stay in one of our many accommodation providers from 11th July* and enjoy hospitality in our restaurants, pubs and cafes from 13th July**

We look forward to welcoming you back but because of the Pandemic some things will be different. You may be looking for some assurance about your safety and if you'll be welcome. Equally our communities are concerned that the virus may accelerate when we re-open tourism.
So, here's what we're doing.
Although Carmarthenshire will be as wonderful as ever, you'll notice some changes in how we operate and perhaps some differences in reopening timescales for some services that we have here in Wales compared to other areas of the UK. Put simply you will need to do more research, planning and pre-booking for your stay or day out.

For everyone's protection, our tourism businesses are applying higher standards of cleaning and changing their procedures to comply with Government guidance. Many are now proud holders of the new UK wide Good to Go tourism accreditation so look out for those displaying their accreditation!

Further safety measures in our town centres include signs and posters on social distancing and queuing as well as free car parking in Council owned facilities.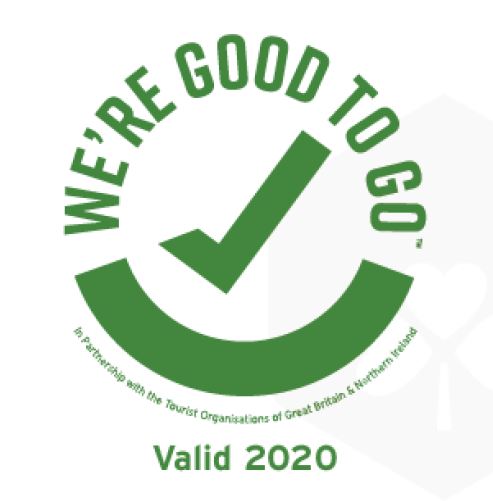 If a beauty spot or beach is too busy, why not simply go and discover a new favourite place and explore our hidden gems from Carmarthen Bay in the South to the Cambrian mountains in the North. If after browsing through all of the things to do and see in our website you still have a question, please contact one of our bilingual staff through hour tourist information "Hotline" via email tourism@carmarthenshire.gov.uk or phone 01267 231557. We will respond as soon as possible
Together we can;
• Respect our guidelines, safety measures, local communities and others around you
• Protect –yourself, other people, and critical services; stay home if you're unwell
• Enjoy our people, places and hospitality safely - thank you for supporting local businesses get back on their feet


Diolch / Thank you
Notes:
*Only those accommodation that is entirely self-contained such as holiday cottages, holiday caravans including modern touring caravans and motorhomes and some glamping accommodation with their own kitchens and bathrooms that no other guests use can reopen from this date. All shared facilities, aside from water and disposal points, should remain closed including toilets, shower blocks, laundry, restaurants, nightclubs, bars, cafes.
** Pubs, bars, cafes and restaurants in Wales will be able to reopen outdoors from 13 July, with venues able to open in spaces they own and have licences for. But indoor services will remain closed for now.
The information on these pages may not reflect the current status of places to visit and what you can do. Please check with the places you intend to visit before travelling.