West Wales Centre for Arts and Crafts
Located in the heart of rural Carmarthenshire, this gracious stone building, once a mill, then a farm stores is still the focal point of St. Clears. This is a landmark has recently been converted and adapted to provide an art gallery and exhibition centre, a shop, conference / meeting rooms, artist studios and St. Clears library. 
Not only was it once awarded the "Hidden Gem" by Visit Wales for several years running, it has also been described as "an attraction that delivers outstanding and memorable experiences for visitors".
The whole building is accessible to all and has free Wi-Fi throughout.  
Opening Hours for The Gate:                              
Monday - CLOSED
Tuesday -Friday – 10:30am – 4:30pm
Saturday 9:30am – 1:00pm              
Sunday- CLOSED  
The Library has reopened and is open Tuesday 1.00-4.30, Thursday 1.30-4.30, Friday 10.30-1.00. Please report to reception before going to the library.
To keep up to date with all things The Gate, please follow us on Facebook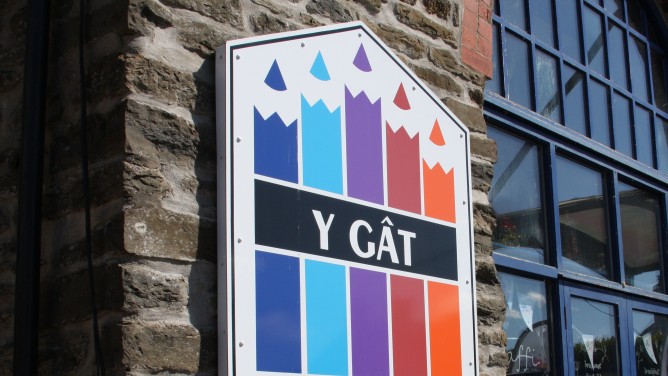 Contact Us
Phone: 01267 224963
Email: TheGate@Carmarthenshire.gov.uk
The Gate, Pentre Road,
St Clears, Carmarthenshire,
Wales, SA33 4AA
What's on now...
Meet The Maker' videos will introduce you to a variety of crafters who will demonstrate the stages involved in the making of a range of craftwork and answer questions about their work and inspirations.

All these videos will be followed up with face to face workshops held at The Gate, St. Clears adhering to Covid guidelines once The Gate has re-opened.
Meet the Maker: David Peterson
An introductory video tour of David Petersen's latest exhibition at The Gate Gallery, St. Clears: "BRETON SKETCHBOOK"
Enjoy a taster of the local artist and sculptors sketches of beautiful Breton landscapes and listen to David discussing his work, inspirations and thoughts with the Revd. Jeffrey Gainer.
Meet the maker: Louise Bird
An introductory video of Louise Bird's crafting skills as a taster of upcoming face to face workshops that will be held at The Gate,when we re-open.
In the meantime please enjoy this free video, filmed at The Gate, to whet your appetite for hands-on crafting and improving your practical skills.
Meet the maker: Malcolm Beynon
An introductory video of Malcolm Beynon's crafting skills as he demonstrates making a copper foiled stained glass sun catcher as he discusses his work and inspirations.
Meet the Maker: Melissa Warren
An introductory video of Melissa Warren's crafting skills as she demonstrates the making of textile jewellery, yarn wrapping and fabric painting as she talks about her work and inspirations.
Meet the Maker: Tina Cunningham
An introductory video of Tina Cunningham's crafting skills as she demonstrates weaving various items using hedgerow materials and discusses her work and inspirations.
Meet the Maker: Marysia Penn
An introductory video of the crafting skills of Marysia Penn as she demonstrates a range of techniques using upcycled fabric to create memory elephants and floral wreaths.
Meet the Maker: Nina Morgan
An introductory video of Nina Morgan's crafting skills. Nina has a range of techniques and in this video she demonstrates leaf monoprinting.
Gallery and Shop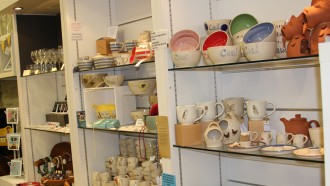 The retail space and exhibition area have emphasis on Welsh arts, crafts, and makers both well established and starting out allowing them to show case their work.
The gallery space hosts up to 8 exhibitions a year, ranging from watercolours, ceramics, prints and photography to textiles. Artists are selected mainly from South Wales as are many of the suppliers to the shop.
The shop stocks a wide range of original and different gifts including jewellery, ceramics, local honey and metalwork. 
What's on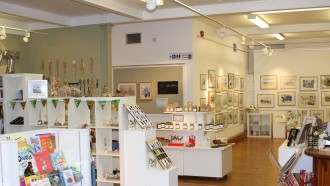 The Gate, St. Clears houses an Art Gallery & Exhibitions and offers a range of child / family / adult workshops.
Meeting Rooms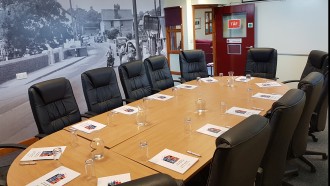 ***Our meeting rooms are now open and available to hire, though due to COVID restrictions numbers are limited.***
As well as St Clears library and St Clears Town Council, the first floor has 2 meeting rooms which are available for hire together with a separate lounge area. Both rooms are fully equipped and there is Wi-fi throughout the building.
Taf- A conference room which seats up to 14 people in boardroom style and is perfect for staff meetings, conferences and training days.
Dewi- Seats up to 25 people in theatre style and is flexible into many different styles of layout.
Our open foyer doubles as a breakaway area during breaks in your meetings and any catering requirements can be accommodated. 
Studios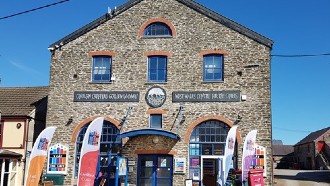 Whether you are a designer, artist or craftsperson looking for that perfect location within the St Clears area, then look no further!
On the second floor of the building there are artists' studios available to rent/hire (subject to availability). All studios are equipped with their own water supply, electricity, telephone point and Wi-fi access.
We offer comparable rates and flexible timescales of hire. If you would like to hire a space, contact us for a quote.