Llandeilo and the Tywi Valley
This is the place where rural chic (fashion and ladies who lunch) meets rural feet (farmers in their wellies) and the result is a real treat.
Llandeilo and the surrounding Tywi Valley have the most iconic structures, ancient and modern, in the whole of Wales.
Llandeilo is a town surrounded by castles and has numerous antique shops, independent traders and art galleries. Llandeilo with its narrow streets and attractive historic buildings retains its old world atmosphere, it has pretty pastel painted Georgian houses that sweep down to the town's immense bridge.
The heart stopping beauty of Carreg Cennen Castle perched precariously and almost inexplicably on a steep cliff compares insanely with an equally breathtaking yet modern structure lower down the beautiful valley - the world's largest single span greenhouse that is home to the National Botanic Gardens.
As the first national botanic garden to be built in the UK in 200 years, this is a garden that looks to the future as well as reflecting on the past. The National Botanic Garden has over 8,000 plants decorating 560 acres of countryside. The Gardens have a comprehensive programme of activities and plantings change throughout the season with occasionally rare flowerings of exotic plants that attract attention from around the world.
Close by are the Aberglasney Gardens that have been the inspiration to poets and artists for nearly 550-years and in the last century, photographers too. It has been described as the finest garden in Wales, so deserving of its heritage garden of excellence label. In addition the surrounding countryside offers the enchanting Dinefwr Castle; the Welsh Princes battlements of Dryslwyn Castle that is steeped in the Welsh history of betrayal and blood and the well preserved National Nature Reserve and Castle at Dinefwr Park and Castle.
Not to be missed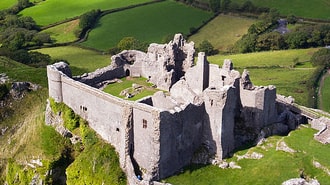 Carreg Cennen Castle
Carreg Cennen Castle dates back to the 12th Century. If it is spotted when driving by for the first time there is an irresistible urge to pay it a visit. From its ramparts there are astonishing panoramic views; a spooky vaulted passageway and a ghostly underground cave. You can only marvel at the engineering ingenuity of Carreg Cennen's Castle builders and the bravery of its assailants.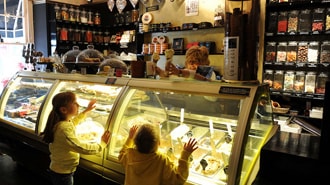 Heavenly
A visit to Llandeilo would not be complete without a detour to Heavenly, where the ice cream, chocolates and sweets are to die for! Inspired by her travels to Rome, owner Tracey Kindred and her team use Welsh organic milk and cream to make gelato-style ice cream on the premises to no less than 300 recipes (though they're not all on sale at the same time). But give Heavenly a week's notice and they'll whip up any flavour you like - lobster and chips must be the wackiest to date. Even pooches are catered for with a doggy-friendly variety.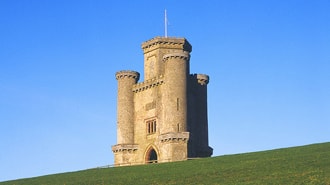 Paxton's Tower
Paxton's Tower is only a folly, built in honour of Nelson, but who could resist such an amusing triangle of a building, with a turret at each of its three corners, and a banqueting room on the first floor? And yes, you can walk up to it, shelter inside it, climb a turret to the banquet of your imagination. Take a photograph: go on, you must. To get there, turn left off the B4300 in the village of Llanarthne, then take another turning left, looking out for the National Trust signs for the folly.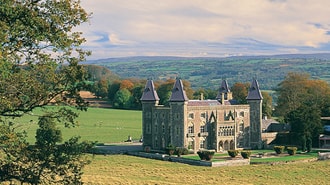 Newton House
Newton House is the centrepiece of Dinefwr Park and Castle, a stunning 800-acre estate and one of Wales's most important historic and cultural sites. The imposing rooms offer views out over one of the best 18th-century landscapes in Britain where you'll see White Park Cattle, fallow deer and a landscape newly restored to its 18th Century design. The moment you step inside Newton House you will be entranced by this wonderful place which allows you to see, touch and feel for yourself what it must have been like to live a hundred years ago.