Short, quiet and reasonably flat ride up the Towy Valley
Directions
From Llandovery Car Park exit onto the A40 and follow for 800 metres. Immediately after crossing the Towy River turn right onto a minor road, signposted Cilycwm. Follow for 1.3km, then turn left at the t-junction. After a few hundred metres as the road starts to climb turn right, signposted Cilycwm. Follow for 2.5km then at the junction head straight on and into Cilycwm.
Within the village turn right soon after the church and follow the minor road for 2km to the next t-junction. Turn right and follow back to Llandovery. Upon entering the town at the cross roads head straight over the A483 onto Stone Street. Follow to the bottom, then at the T-junction turn right. After 100 metres turn left into the car park to finish.
For riders looking for a short but scenic route on country lanes, this will certainly appeal. With no killer hills and lots of good views it is an enjoyable ride.
From the start and the centre of the town there is all but 800 metres on a main road before turning off just after crossing over the Towy River. From here traffic eases and while the roads are narrower, they are still very enjoyable.
The initial section on part of what is known locally as the "Dolau Loop" has a few undulations which are enough to warm up the body and legs. The route turns off at the bottom of a big hill known as "Henllys" which will be a relief to many and turns onto a quiet and treelined section of road that follows the Tywi river as it meanders up the valley. One short kicker of a climb and the toughest part of the route does lie in the way, but it is the only significant uphill section of the whole route.
The village of Cilycwm is a quiet and pleasant one with popular village pub in the centre. From here the route turn off onto even quieter roads, over the Gwenlais river and soon after crosses over the Tywi river over a metal bridge.
After rejoining what may then feel like a much wider road the final section is a blast back to Llandovery, mostly downhill and hopefully without a headwind it is easy going. On a clear day the views of the peak at Fan Brycheiniog and the iconic ridge of Bannau Sir Gar can be seen in the distance.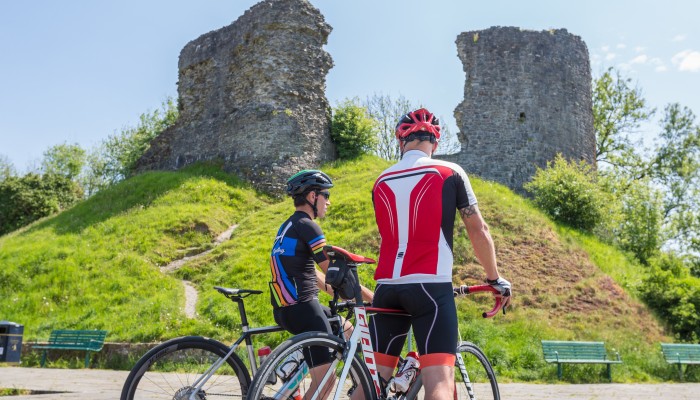 Highlights
Cilycwm – Quiet village upon the Gwenlais river within the Towy Valley
Stopping points
Cilycwm – Neuadd Fawr arms
Llandovery – Penygawse Tea Rooms
Llandovery – Craft Centre Cafe
Llandovery – West End Cafe
Useful info
County Cycles – Bike shop, Cross Hands