We are better throughout the year for having, in spirit, become a child again at Christmastime. Laura Ingalls Wilder
Start the countdown to the Festive Season
Start the countdown.....it is almost time for Christmas Lights to start brightening the winter skies around Carmarthenshire. Seeing the lights being switched on is a magical part of Christmas and really gets everyone in the Festive mood.
Llanelli Christmas lights switch on and Carnival is the biggest celebration in Carmarthenshire and thousands come out to line the streets to watch the Christmas parade and fireworks that signal the start of Christmas. Join in the fun on Friday November 18th.
The festivities take place on Saturday November 19th in Carmarthen, with the town lights & St. Catherine's walk switch on taking place along with the reindeer parade in the afternoon.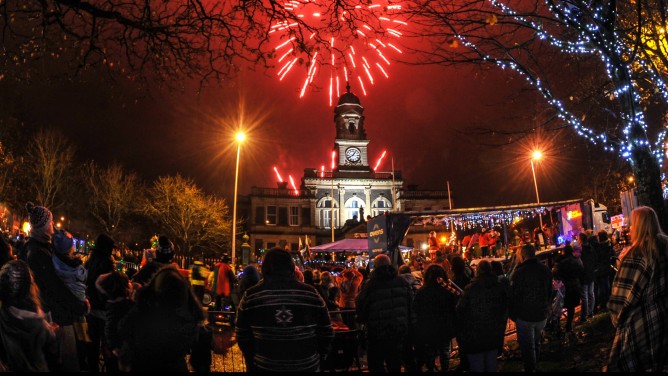 A magical Christmas 
Santa and his Elves are very busy making Christmas gifts and are looking for helpers at Carmarthen town Centre on Saturday November 19th
Between 11am and 3pm Elf Stations will be positioned across the town, with free festive activities for children. Guildhall Square, Nott Square, Yr Atom, St Catherine's Walk, Jackson's Lane and Merlin's Walk will all join in the fun with lots of free things to do and make throughout the afternoon.
Remember to bring along your letters to Santa to post.
Festival of senses
Nothing says Christmas like Llandeilo's Festival of senses, an annual event in Carmarthenshire's Christmas calendar.
Luminate: Magical Illuminated Light Trail Join us in December for a magical journey along a captivating illuminated trail through the beautiful grounds of the Botanic Garden. Immerse yourself in our mesmerising mile long walk, with our stunning lighting elements and fabulous interactive light play, all set to ambient music. A timeless experience to be enjoyed by all, young and old alike. The trail is open nightly from 1st December 2022 until Monday 2nd January 2023 (closed Christmas Day). Tickets must be pre-booked online.
Shopping- gift ideas
Christmas in Carmarthenshire is a shoppers dream with special events offering the opportunity to find something different, from the Taste of West Wales Winter Festival at The National Botanic Garden of Wales to 100% Sir Gâr Christmas pop -up shops you are bound to find that a great stocking filler.
Get into the festive spirit as you browse the quality stalls from independent artists and craft makers. The glass house will be filled with tasty treats and unique gift ideas for all the family. Festive entertainment will provide the soundtrack to your day as you sip on a luxury hot chocolate or a glass of mulled wine against the backdrop of the largest single-span glasshouse in the world on Saturday November 19th -20th.
100% Sir Gâr are running three pop -up shops full of festive cheer and gift ideas in the lead up to Christmas. Meet the makers and food producers from around Carmarthenshire in the pop-up shops in Carmarthen, Ammanford & Llanelli Town Centre. The pop up shop will open their doors from Wednesday 7th December until Wednesday 21st December.
If you want to keep the children entertained, Pembrey Christmas Fayre will be a great day out. Taking place on Saturday December 3rd & Sunday December 4th, there will be craft stalls in the marquee for gift ideas, along with local choirs singing Christmas carols and performance groups throughout the weekend. Meet the Alpacas and of course the most important person, Santa, who'll will be there for the weekend.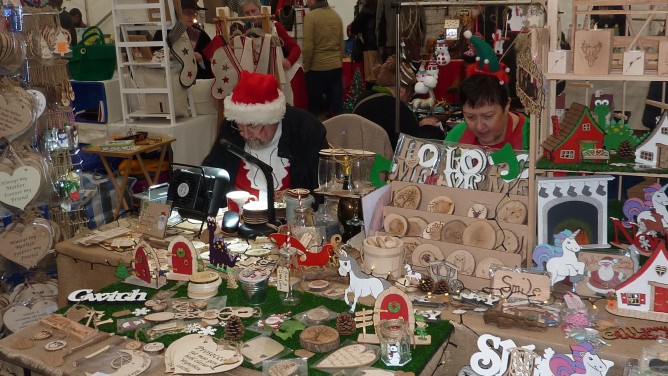 More Christmas Events
You can find more Christmas events and Festive fun on our What's on pages.