Laugharne's most famous resident Dylan Thomas described it as 'nowhere like it anywhere at all', which beautifully encapsulates its intoxicating mix of contemporary culture and the literary connections that lie at the heart of a stunning coastal location.
Laugharne casts an undeniable spell over all those who visit; the town's most famous former inhabitant, Dylan Thomas, got it right when he said 'there is nowhere like it anywhere at all'. The Welsh writer is synonymous with the town – he lived here, loved here, drank in many of the pubs here and, alongside his wife Caitlin, lies buried in the graveyard of St Martin's Church above the village. As well as its literary links, Laugharne boasts an impressive castle, plenty of great places to eat and drink and is fantastically located for adventures by the sea.
Get your bearings
Find Laugharne on the south coast of Carmarthenshire, atmospherically built around the estuary of the River Tâf. The coastal town sits along the Wales Coast Path and is easily accessed by road from the east, as well as from Pembrokeshire to the west. Within striking distance of Laugharne is one of Wales' longest beaches, Pendine Sands, the site of motoring history and where numerous land-speed records have been made and broken.
Take a view
No visit to Laugharne is complete without a pilgrimage to The Boathouse, where Dylan Thomas lived with his wife Caitlin and their children, Aeronwy, Llewelyn and Colm, from 1949 to 1953. On your way to their home you'll pass the Writing Shed where Thomas penned his famous play for voices, Under Milk Wood; it's not hard to see how one could be inspired in such a spot, with views stretching over the estuary. The Writing Shed is left just as though Thomas had popped out for a walk; continue on to the Boathouse, set dramatically into the side of the cliff, now a heritage centre with audio visual presentations, original furnishings and memorabilia, a themed bookshop, tea room, plus viewing platform and terrace.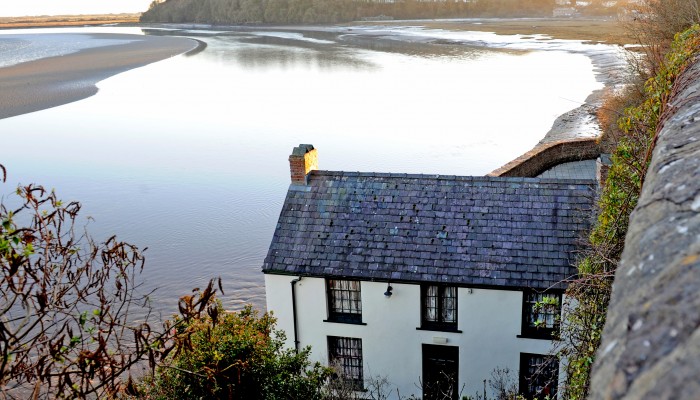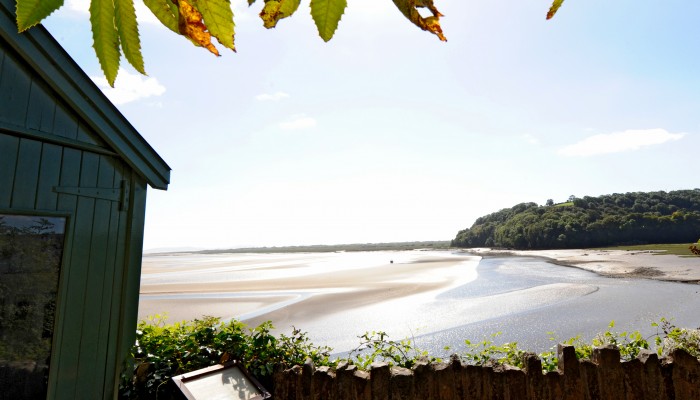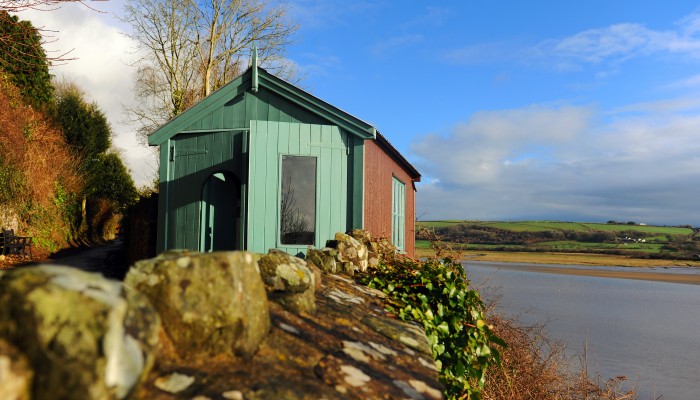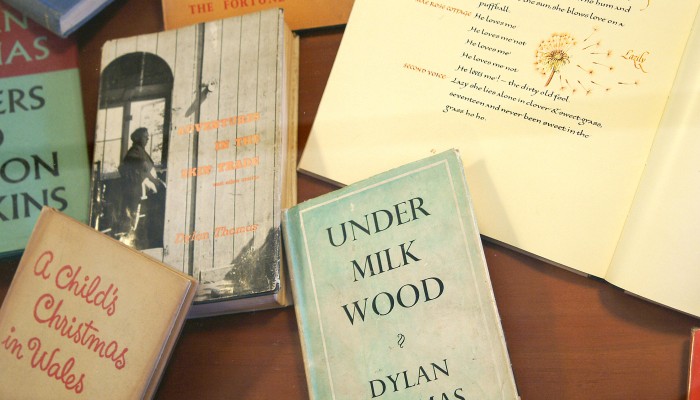 Take a stroll
Dylan Thomas penned Poem in October on his thirtieth birthday, and the work traces his own walk from his house around the beautiful part of Wales he had come to love: 'My birthday began with the water', he wrote. Take the two-mile Dylan Thomas Birthday Walk yourself and explore Laugharne's rich history, while appreciating views over the estuary, Boathouse, the Gower Peninsula, north Devon, Caldey Island and Tenby. If it's your birthday you'll be lavished with gifts from local businesses. Show ID proving your date of birth, recite the line "Oh may my heart's truth still be sung" and bask in the birthday love!
A lush lunch
We all know the Owl and the Pussycat went to sea in a beautiful pea-green boat – but did they set off from Laugharne, perchance? The Owl and the Pussycat Tearooms in town are delightfully decorated in homage to the enchanting Edward Lear poem, and serve hungry walkers with delightful dishes from quiche to cake.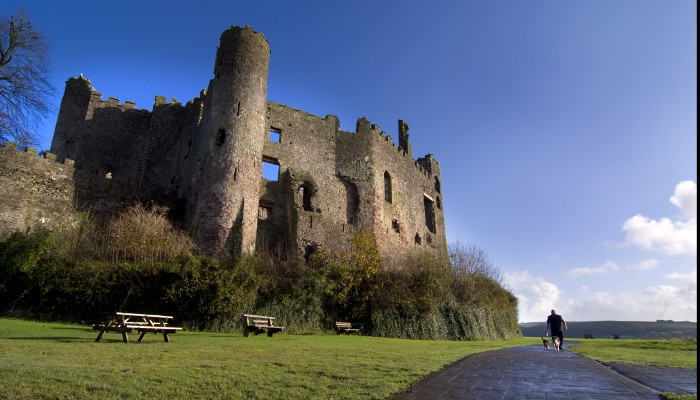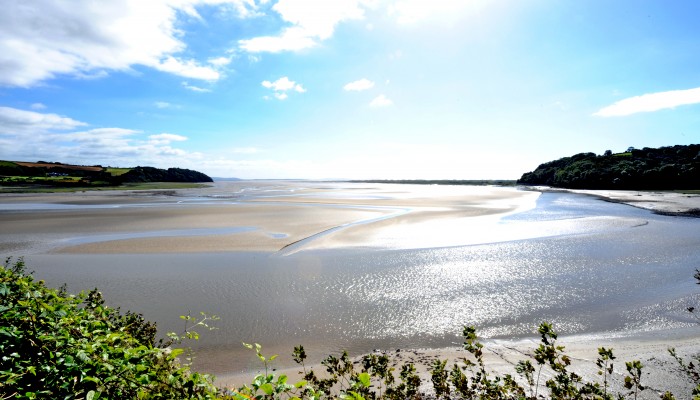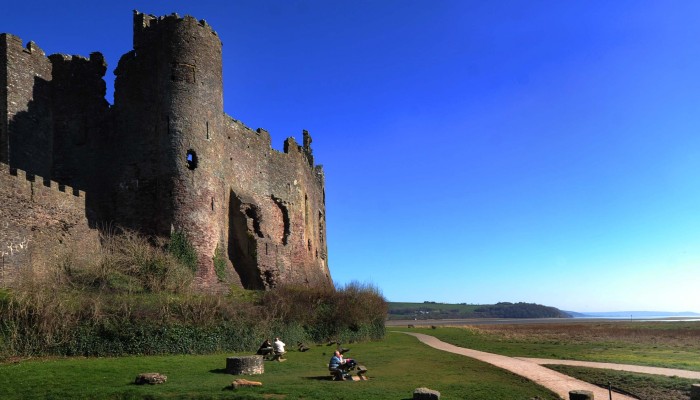 Window shopping
You can't leave Laugharne without a book or three under your arm; head to famous Corran Books, a bookshop that wouldn't be out of place in a fairy tale itself, located in a historic building with its windows piled high with tomes. The shop at The Boathouse is another great spot for bibliophiles and the best place to pick up a Dylan Thomas omnibus or copy of Under Milk Wood.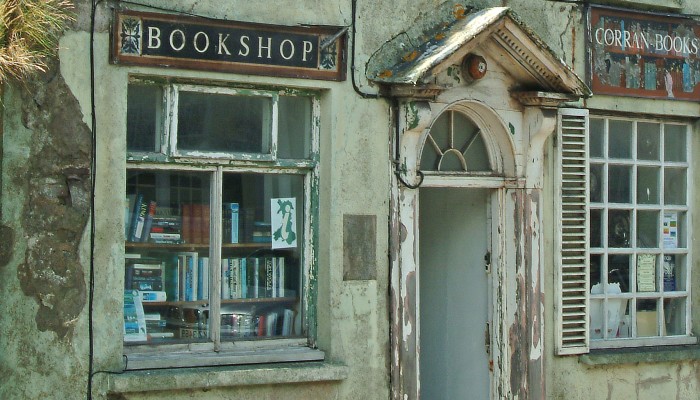 An aperitif
Head to Dylan Thomas' favoured drinking den, Brown's Hotel, and settle in for a pint of Welsh ale. Such a regular to this establishment was Thomas, he gave out its number to anyone wishing to reach him, since they'd invariably find him there. Recently refurbished, the upscale boutique hotel's bar serves a choice selection of real ale, quality wines and Welsh Penderyn whisky. The creative vibe remains, with live music every Sunday and a monthly 'Poems & Pints' night.
Dine like local
The Corran Resort and Spa is one of the most charming addresses, beckoning visitors with the promise of delicious cooking and captivating them with a hospitality that comes straight from the heart. Come for a convivial knees-up with friends or an intimate dinner for two or treat yourself to an overnight stay.  There's nowhere more relaxing to base yourself for a mini-break to Laugharne, particularly if you make use of the splendid spa.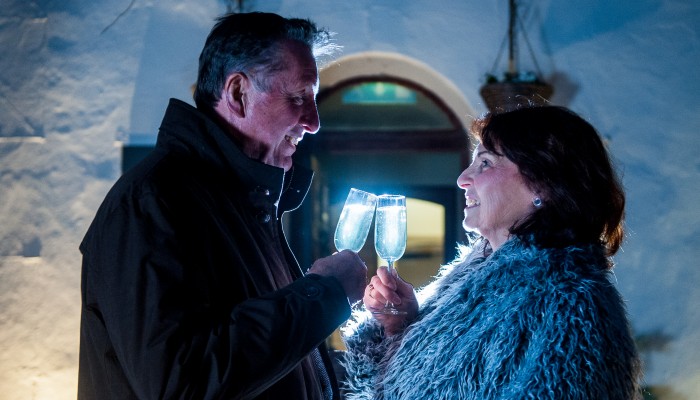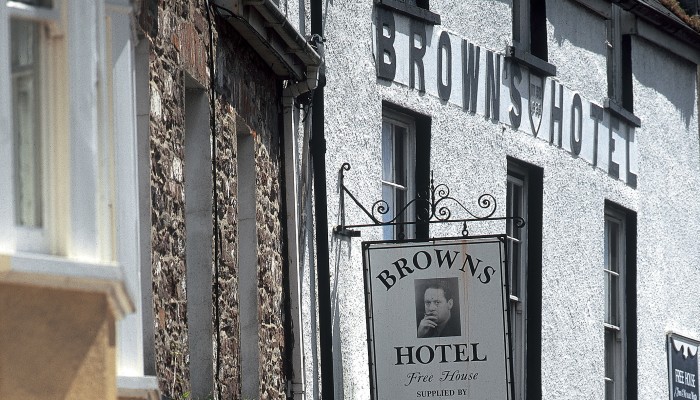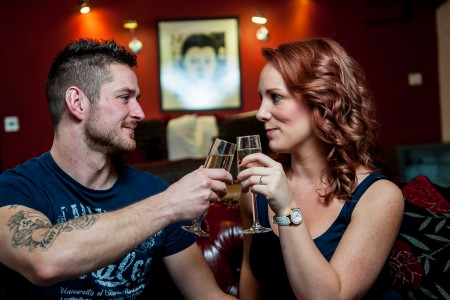 Out to brunch
Foodies love the Ferryman Delicatessen, whose shelves and displays are laden with mouth-watering Welsh – and some Spanish – goodies. You can eat delicious breakfast in the deli itself, or put together your own waterside picnic brunch from the delights on offer; don't miss the Ferryman's interesting takes on the traditional Welsh cake.
Walk in the park
Pick up the Wales Coast Path; the walking route, which circumnavigates the entire Welsh coast, runs right through the town. From The Boathouse, the official walk heads past the castle and climbs steeply up from Sir John's Hill to Salt House Farm, rewarding you with jaw-dropping views across the Tâf peninsula.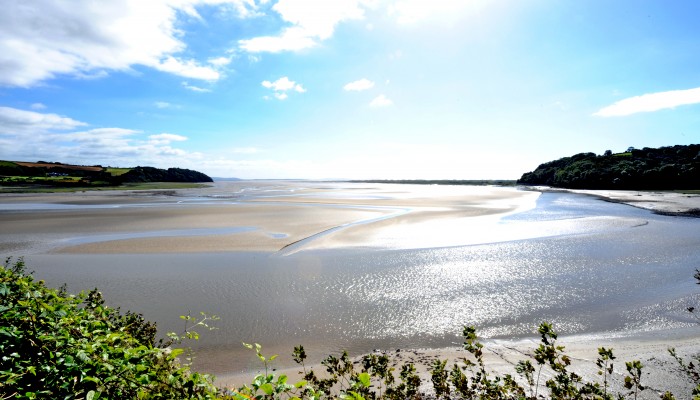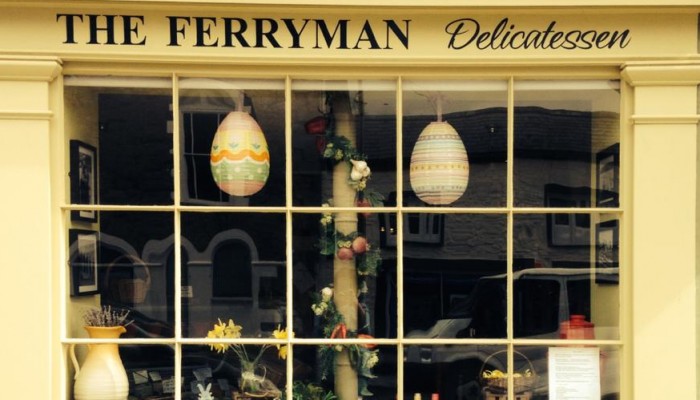 Take a ride
Head to nearby Pendine Sands to find out about exhilarating rides that have made it into the record books. This stretch of sand saw land-speed records made, broken and re-set, first – and most famously – by Sir Malcolm Campbell in 1924 in his car Blue Bird. The Welshman J. G. Parry-Thomas, in his car Babs, broke the record before Campbell re-set it, but sadly Parry-Thomas died in a subsequent attempt. See Babs, restored to her original glory, at the Museum of Speed. Today you can get your adrenaline rush on the same beach by having a go at land yachting, kite buggying and power kiting!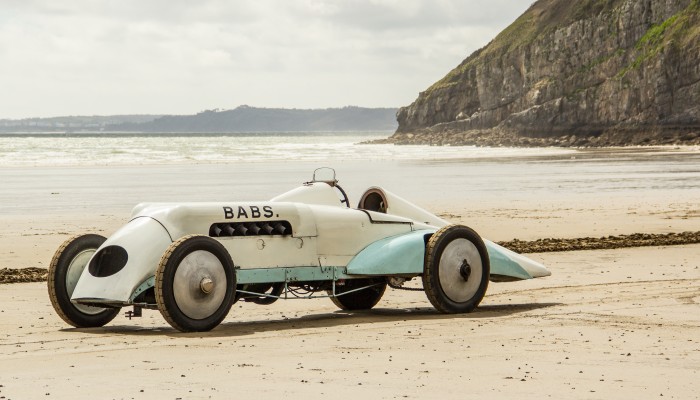 Cultural afternoon
Visit the majestic medieval castle turned Tudor mansion Laugharne Castle, which perches over the Tâf estuary from its lofty vantage point; its Victorian gardens are a treat, perfect for a picnic, and its summerhouse was deemed the perfect place to ward off writer's block by wordsmiths Dylan Thomas and Richard Hughes. Thomas fans can also spend a peaceful moment contemplating all the beautiful (and often delightfully bawdy) lines the poet put to paper so wonderfully at his gravestone in St Martin's Church.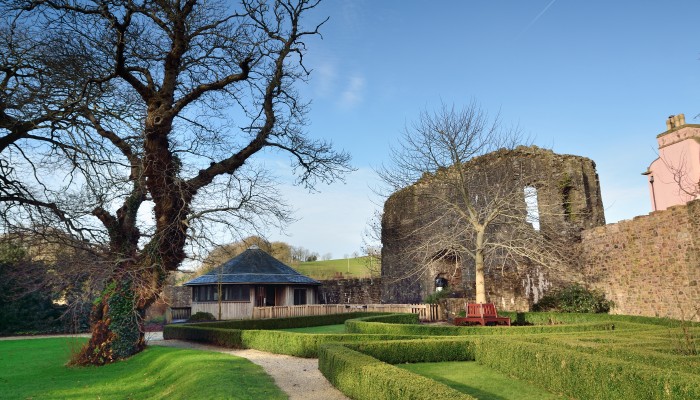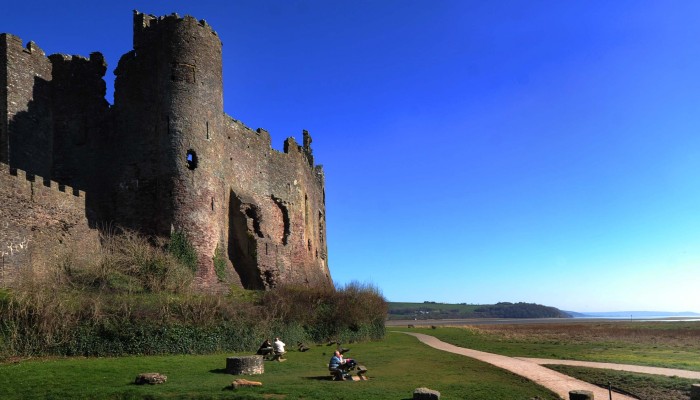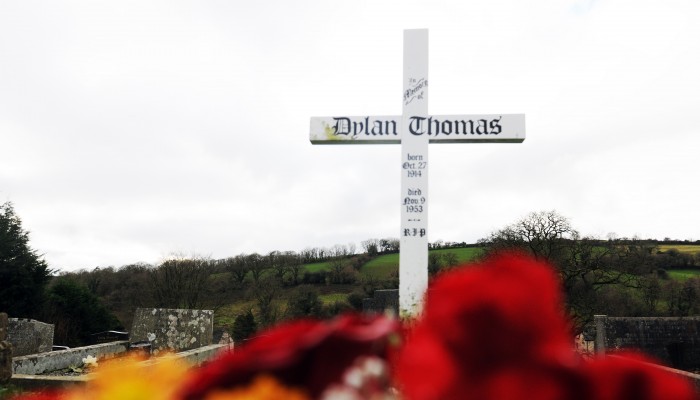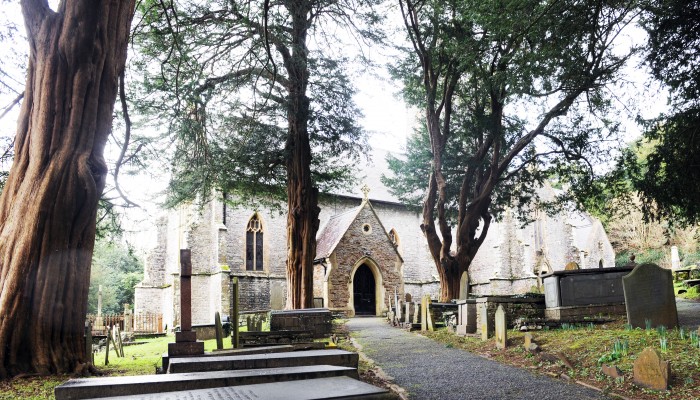 Icing on the cake
Each spring, Laugharne becomes a hotbed of contemporary culture as the Laugharne Weekend takes over. Held from 6-8 April in 2018, this celebration of literature, music and merrymaking is a literary festival with a difference, where you're just as likely to catch your favourite author jostling for position at the bar at the legendary after-parties as on the stage talking about their latest work.