Winter in Carmarthenshire
Button up your coat, lace up your boots and grab a scarf, winter's officially here.
Carmarthenshire is ready to welcome you to celebrate the best of the season. From braving the waves for a bracing Boxing Day dip or creating a masterpiece at the National Botanic Garden to bedding down in a rustic retreat, or simply helping you stay safe. Carmarthenshire has got winter covered.
We're justifiably proud of our county - its scenery, music, food and more - and we love to share it. You're guaranteed the friendliest of welcomes wherever you wander and we'd love you to come and try it for yourself.
Getting to Carmarthenshire couldn't be easier. We have excellent transport links into the county whether you would prefer to travel by bus, rail or road. There is accommodation to suit all tastes and budgets - from country houses to camping.
Cwtch is welsh for cuddle, so why not cwtch up in Carmarthenshire this Winter!
With the chill in the air and the sight and sounds of people enjoying there is no better time than Christmas.
Carmarthenshire offers plenty of ways to take full advantage of the most wonderful time of the year. Here are some ways you can enjoy Christmas in Carmarthenshire.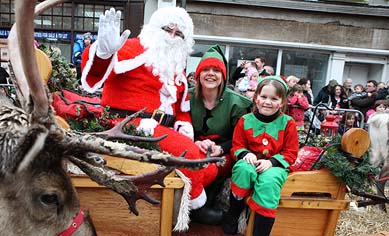 Christmas in Carmarthenshire has plenty of great festive fun and frolics to offer you. From festive events, Christmas fayres, wonderful festive Christmas Markets and fabulous Pantomimes Carmarthenshire has it all.
From the twinkling lights and seasonal sounds Carmarthenshire promises a fun-filled Christmas to remember. We wanted to spread the joy and help you get into the festive spirit.